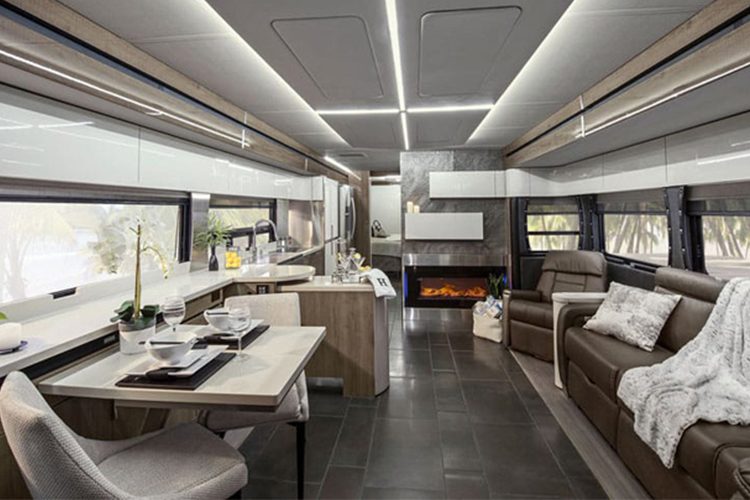 Winnebago Horizon Product Information
Winnebago Horizon Questions?
The Diesel Winnebago Horizon 40A
In honor of the timeless Christmas Carol, The 12 Days of Christmas, we are featuring 12 Winnebago models that you will want to add to your Christmas list!
Confident and bold, the new Winnebago Horizon brings a fresh look to the diesel pusher category, with the performance to back it up. The Horizon features a refreshingly clean design, highlighted by LED halo lighting and luxurious Villa furnishings, as well as a spacious master bedroom with a walkaround recline and incline king bed, abundant interior storage, full galley with residential style refrigerator, and the versatile Glide & Dine dining table and chairs that let you configure your dining area to suit your needs. Every Horizon is built on our turbo diesel powered Maxum Chassis, so you can count on the performance, ride, handling, and storage of 183 cubic feet in the exterior basement to match the Horizon's elegant good looks. Drive, arrive, and thrive in style: the new Horizon is calling.
Winnebago Horizon 40A Highlights:
Private Master Suite
Glide and Dine Table
Fireplace
Outdoor Entertainment
Carefree Diesel Living in the Winnebago Horizon 40A
At Winnebago, innovation isn't limited to our cutting-edge products. We also lead in after-sale service support. So while some manufacturers are turning "older" coaches away from their service facilities, Winnebago will be there for you, today, tomorrow and for years to come. If you're trading in a Winnebago or any other brand motorhome for a new Winnebago diesel pusher, we'll back you with our 3-year, 100,000-mile warranty. No trade-in? No problem! We'll still back your new Winnebago diesel pusher with the same 3-year, 100,000-mile warranty. Simply visit your nearby Winnebago dealer, make your best deal, then leave your worries behind — warranty repairs for three years or 100,000 miles are on us!
See Lichtsinn RV's Winnebago Horizon Inventory here.